At the beginning of the year, DxOMark reviewed the camera performance of the iPhone 11, giving it an overall score of 109 points. Fast forward to October when DxOMark announced it had made significant changes to its camera test protocol. The iPhone 11 has now had its review redone based on this updated test protocol and it has got a new overall score that is 10 points higher than the first one.
The overall score of 119 points is broken down into 129 points for photo, thus tying with the Pixel 5; 36 points for zoom; and 109 points for video.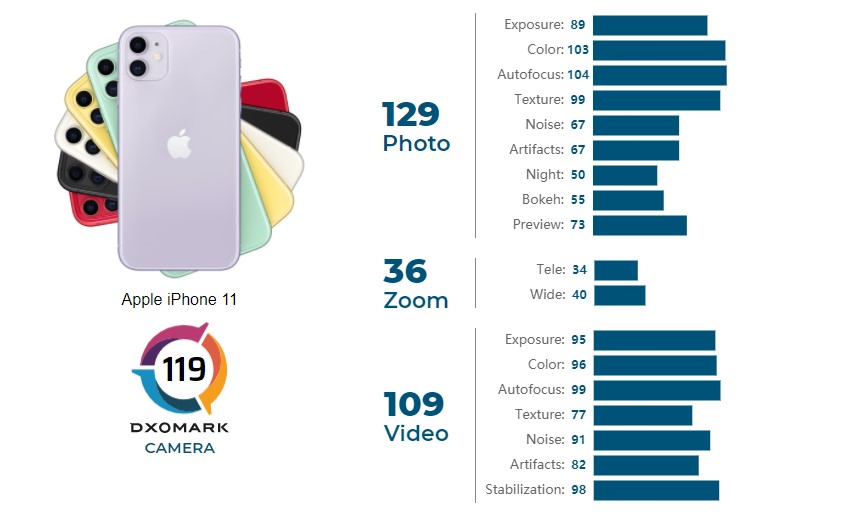 The review says the iPhone 11 takes accurate photos with a wide dynamic range in most tested conditions. Color rendering is also one of its strengths as most of the images come out "vivid and pleasant". However, the white balance is said to have a warm cast under low artificial lighting. Autofocus is another strong area where the iPhone 11 excels; DxOMark says it is "fast, accurate, and reliable".
The phone falls short when it comes to zoom which is no surprise considering it doesn't have a telephoto camera like the iPhone 11 Pro Max. Details drop when you take medium and long-range shots and the lack of that telephoto camera also means that portrait photos are not as good. The review says that night portraits also sometimes come out overexposed.
When it comes to videos, the iPhone 11 gets a huge compliment – "one of the best devices we've tested for moving images" says DxOMark. It nails exposure most of the time though there is slight white balance instability that can be noticed in indoor videos. Its autofocus is fast and stabilization does a good job too.
DxOMark recommends the iPhone 11 for anyone whose focus is on photos and videos. And now that it starts at $599, it is a more affordable option to the $829 iPhone 12.
ALWAYS BE THE FIRST TO KNOW – FOLLOW US!