Are you a video-maker and looking for an affordable gimbal? Then, Zhiyun 2-axis smartphone gimbal is worth looking forward as it offers some commendable features at great discounts. Zhiyun Smooth-X handheld Gimbal offers splendid stability along with extendable selfie stick. The gimbal carrying all the exciting features is on sale for $34.99 after using Coupon code SMOOTHXX. However, the Combo is available for the price of $41.99 with over $28 discount using coupon code SMOOTHXX.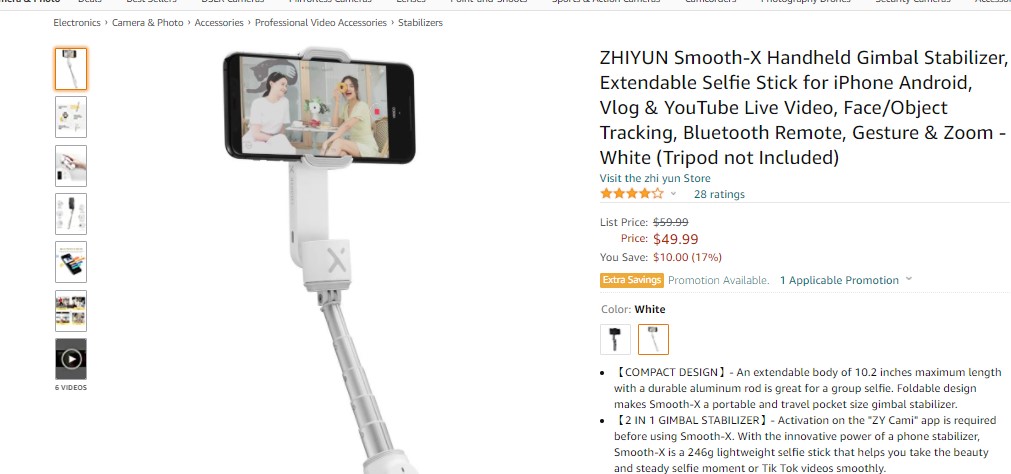 Zhiyun 2-axis smartphone gimbal carries an extendable stick which expands up to 10.2-inches in height. Overall, it is portable and can be adjusted into the pocket. The smartphone also offers intelligent gesture control which allows video recording effortlessly with Bluetooth Wireless Control. It can be easily used with smartphones like the iPhone and other Android smartphones.
There are dedicated buttons to easily and wirelessly switch between portrait and landscape modes. There's support for intelligent New "ZY Cami" App which is designed for filmmaking. It allows creating/editing professional movies and fun videos with simple clicks.
Features of Zhiyun 2-axis smartphone
Foldable and Rotatable: The gimbal is portable and compact and measures 65 x 56 x 145mm in size.
Extendable Selfie Stick: Smooth X is quite useful and acts as a selfie stick.
Portrait Mode: The smartphone allows the user to record in portrait/landscape mode to record videos.
Bluetooth Control to Camera: Connect your smartphone wirelessly via Bluetooth without even touching the display.

Advertisement
The ZY Cami app is a den for creativity as it offers an easy user interface and useful tools for video creation. It also enables Face/Object tracking, Gesture Control and Filmmaking features.
Pricing
Zhiyun 2-axis smartphone gimbal usually retails for $59.99, but with a discount of $25 using a coupon code, it is retailing for $34.99. However, the combo is available for the price of $41.99.
Coupon Code: SMOOTHXX
ALWAYS BE THE FIRST TO KNOW – FOLLOW US!