We've heard plenty of analyses in the past few days, and now we have another report to confirm that Huawei has overtaken Apple in the battle for the second place on the global smartphone market. Counterpoint Research revealed that Cupertino fell under 200 million shipments while its Chinese competitor reached almost 240 million.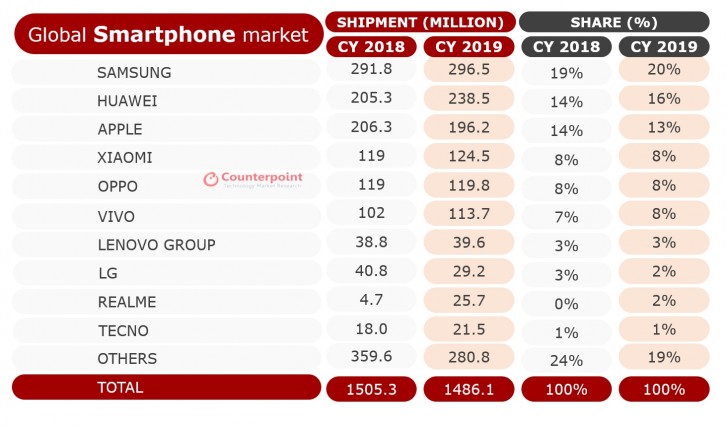 The analysts reported that switching 2019 strategies lead to improving some results, such as Samsung and its Galaxy A lineup and Apple's relatively more affordable iPhone 11. The non-Pro phone was actually the reason Apple to be the top smartphone maker in Q4 2019, surpassing Samsung and gaining 18% of the total smartphone market.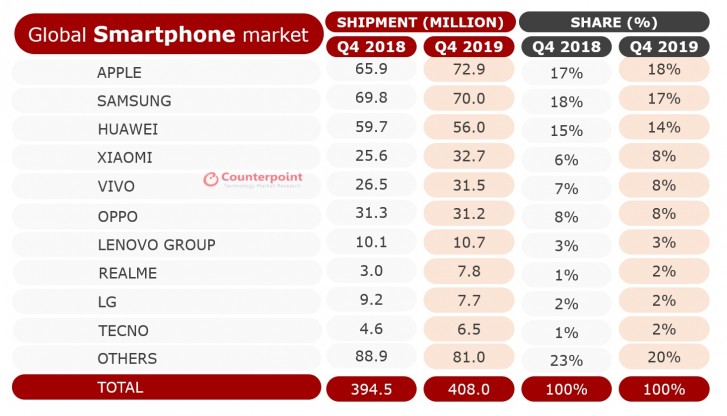 Other interesting takeaways from the report are that Realme is now a Top 10 manufacturer with an overwhelming 483% jump in sales, while Xiaomi remained the top player in India during the full 12 months of 2019. Sales of 5G smartphones accounted to only 1% of all the 1.486 billion shipments, but Counterpoint expects the share to reach 18% in 2020.
Related articles