At the Consumer Electronics Show (CES) 2021, TCL showcased a wide range of devices such as TCL 20 SE and TCL 20 SE smartphones, NXTPAPER and Tab 10s tablets, and Movaudio S600 TWS. The Chinese firm also unveiled two innovative products such as a 6.7-inch rollable AMOLED screen and a 17-inch printed OLED scrollable screen.
The 6.7-inch rollable AMOLED display can be seen in a small smartphone form factor. The screen can stretch from 6.7 inches to 7.8 inches just with a simple tap. This will allow the smartphone to turn into a tablet. The TCL device featuring the rollable AMOLED display will come equipped with an easily adaptable user interface.
The thickness of the device is under 10mm, which makes it slimmer than a foldable smartphone. The company claims that the curling and sliding radius of the flexible screen can be as small as R3mm along with the special mech anism design. Just with a swipe of a button, the display that is originally curled and hidden inside the case can be pulled out. According to TCL, the device offers a sliding life of up to 100,000 times.
The 17-inch printed OLED display that has a thickness of 0.18mm was presented in a unique design of a scroll painting. In the video above, the screen can be seen fitted with two rods at the two ends and it can be seamlessly opened or closed like a scroll painting.
The flexible screen is equipped with TCL CSOT's cutting-edge inkjet printing technology, with a 100% color gamut, it significantly enhances the quality of the display. It can be widely applied across flexible TVs, curved and foldable displays, and transparent commercial displays.
1 of 2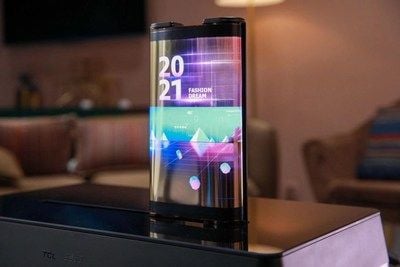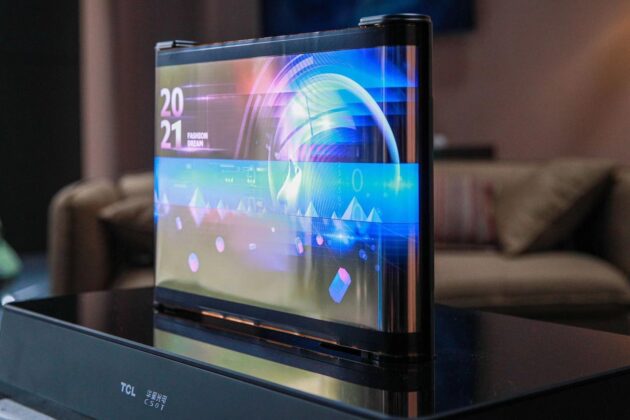 Its OLED RGB self-luminous devices are manufactured with high-precision inkjet printing technology, without the need for fine metal masks. As a result, the cost is 20% lower than traditional display technologies and is more applicable for large-sized displays and mass production.
ALWAYS BE THE FIRST TO KNOW – FOLLOW US!