Apple is rumoured as planning to launch a rugged version of the Apple Watch but before it does, that segment is gradually getting lots of entrants. Casio, best known for its G-Shock series of rugged watches has launched the first G-Shock smartwatch and it runs on Google's Android WearOS. The smartwatch dubbed Casio G-Squad Pro GSW-H1000 is also the first G-Shock watch that packs a colour display.
The Casio GSW-H1000 retains the design language of the G-Shock watches. It is also designed to be rugged and durable with titanium back. The body is also made from durable materials that deliver shock resistance as well as water resistance up to a depth of 200 meters.
The watch is equipped with a 1.2-inch dual-layer display with a resolution of 360 x 360 pixels. The display combines a monochrome always-on LCD display which shows the time always, with a color LCD panel that can show notifications, maps, sensor data, and other information.
Further, the GSW-H1000 comes equipped with several sensors such as a built-in GPS, altitude, barometric pressure, compass bearing sensor, optical heart rate sensor, and others.
On the software side, there is Casio's app onboard which supports 24 indoor workout options and 15 activities including running, road biking, and swimming, as well as other extreme sports such as surfing and snowboarding. There are also other features enabled by WearOS such as smartphone notifications, Google Assistant access, and several apps.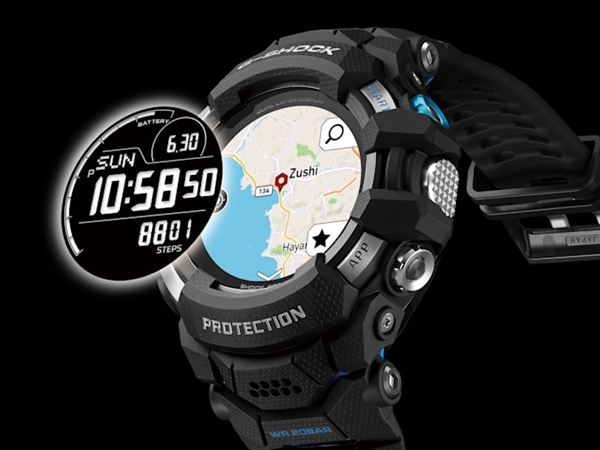 The battery life isn't really great on the Casio GSW-1000. A full charge can last for just 1.5 days with the color display. However, there is a Multi timepiece mode that extends the battery to a month but you'll have to sacrifice the colour display.
The Casio G-Squad Pro GSW-H1000 carries a price tag of $699 in the US or £599 in the UK. The smartwatch will be available in red, black, and blue colors and will start shipping in mid-May.
RELATED;
ALWAYS BE THE FIRST TO KNOW – FOLLOW US!