Advertisement
Market research firm Canalys has predicted in its latest forecast report that in 2020, global 5G smartphone shipments will reach 278 million units, of which 62% (about 172 million units) will come from Greater China, North America (42 million units), Europe, the Middle East and Africa (EMEA, 31 million units).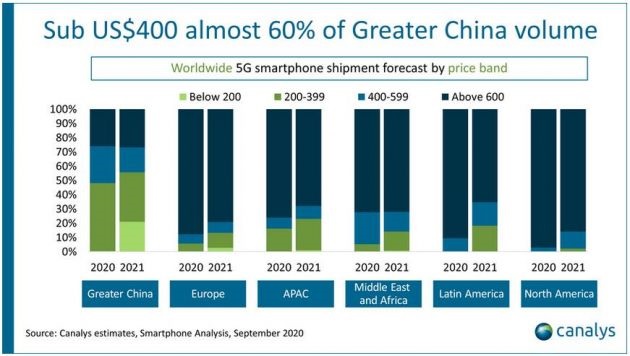 Canalys also predicts that in 2020, smartphone shipments will drop by 10.7% compared to 2019, and it is expected to rebound in 2021, with a year-on-year growth of 9.9%. By then, the entire market will ship more than 1.3 billion units.
The agency believes that the rapid commercialization of 5G smartphones in the Chinese mainland market is a key factor in the huge shipments of 5G smartphones this year.
Advertisement
In 2021, the average selling price of 5G smartphones in Europe is expected to drop to US$765, and then to steadily fall to US$477 in 2024. This is mainly because Samsung and Apple are still the main players in this market, and their products are better than the competition..
At the beginning of 2020, there wasn't any 5G mobile phone priced under US$300 on the market but now, there are many mid-range mobile phones priced under US$250 that support 5G networks. Realme launched the cheapest 5G phone yet which is the Realme V3 5G priced at less than US$150 in China. It is also the first 5G mobile phone to hit the low-end smartphone market.
ALWAYS BE THE FIRST TO KNOW – FOLLOW US!
Advertisement