Black Shark is all set to launch the Black Shark 4 series smartphones in the market, going against the tradition of several Chinese brands to not launch a device with the '4' number as it is unlucky in the Chinese culture.
The Black Shark 4 Pro gaming smartphone has now been tested by the folks at DxOMark for the audio experience and the device has managed to score an impressive 81 points.
It scored 83 points in playback and 71 points for recording. DxOMark claims that its team performed a variety of objective tests with more than 20 hours of perceptual evaluation under controlled lab conditions.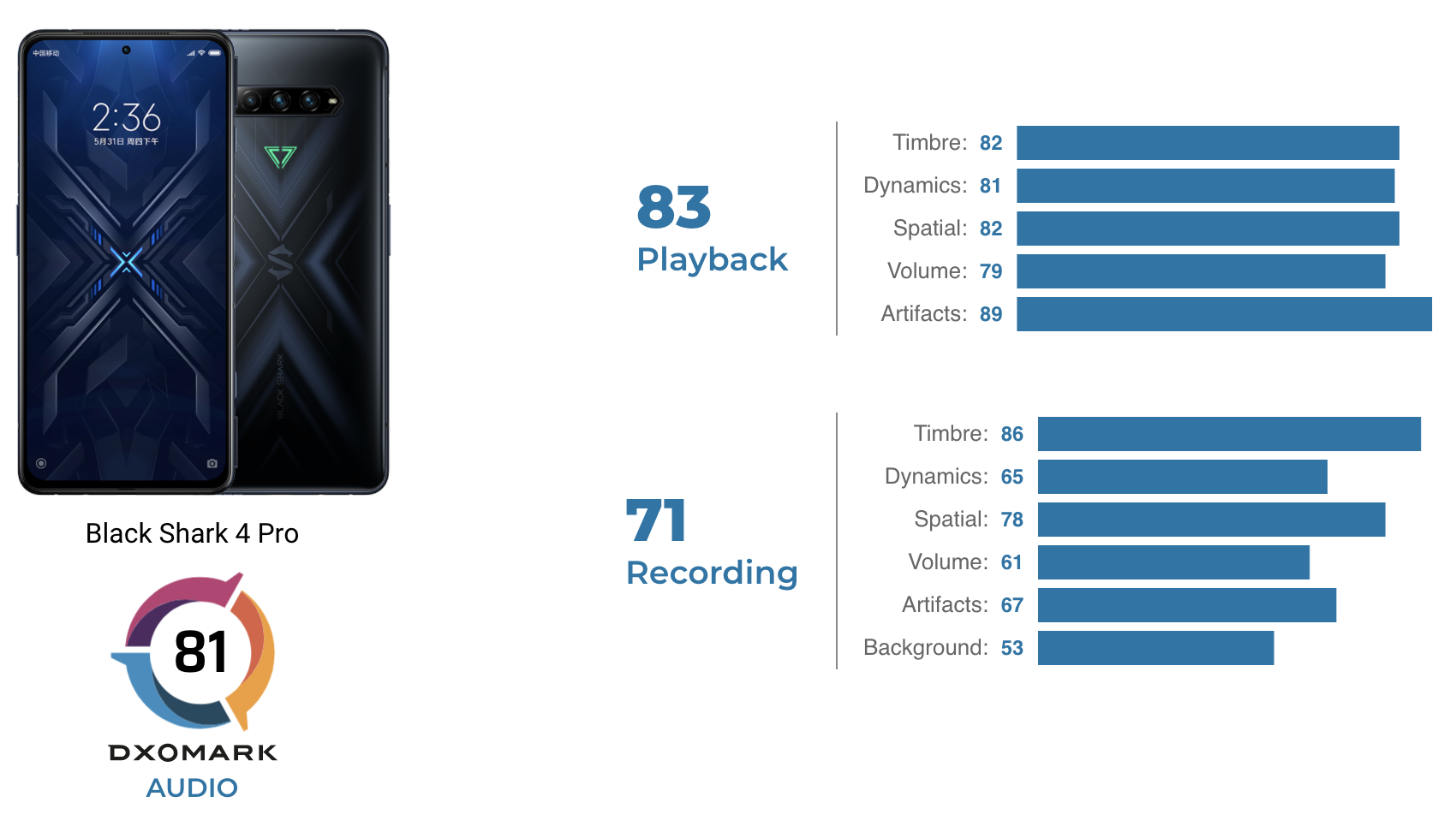 The smartphone comes with a fully symmetrical dual loudspeaker design at the top and the bottom for stereo playback, and specific tuning for music, movies, or games. Similar to its predecessors, there's also a 3.5mm audio jack.
The playback results for the Black Shark 4 Pro are consistent across all use cases, from listening to music to watching movies and playing games. The phone delivers one of the most balanced frequency responses, claims DxOMark.
It offers an impressive low-end extension, impactful and sharp dynamics, an exceptionally wide sound stage, precise localizability, realistic distance rendering, consistent volume steps, and intelligible content even at soft volumes. The noticeable shortcoming includes a slight hiss on specific electronic signals and distortion at loud volumes.
As for the recording, the phone was good and consistent across all use cases. Microphones deliver good low-mids and bass, natural and realistic midrange, precise treble, good high-end extension, great wideness, precise localizability, and accurate distance rendering.
But the device falls behind when it comes to recording in loud environments because of spectral and temporal artifacts. Dynamics are impaired by elevated background noise, and selfie videos
Overall, the Black Shark 4 Pro is the best audio performer of all the phones tested by DxOMark. The phone is outstanding in terms of playback, outperforming other top-scoring phones, thanks to highly consistent and impressive performance across all use cases.
RELATED:
ALWAYS BE THE FIRST TO KNOW – FOLLOW US!