Another month, another bunch of Xiaomi smart products launched or crowdfunded. Thanks to a lot of start-ups it is supporting through its crowdfunding platform and its huge profits, Xiaomi is one of the most prolific companies in the hi-tech sector. Just like the rest of this year, even this month the Chinese giant released and announced a lot of smart products. And most of them are smart and/or connected devices. That is why, in order to let you discover the most innovative things of the month, we made a selection of the best Xiaomi smart products released and crowdfunded in November 2019.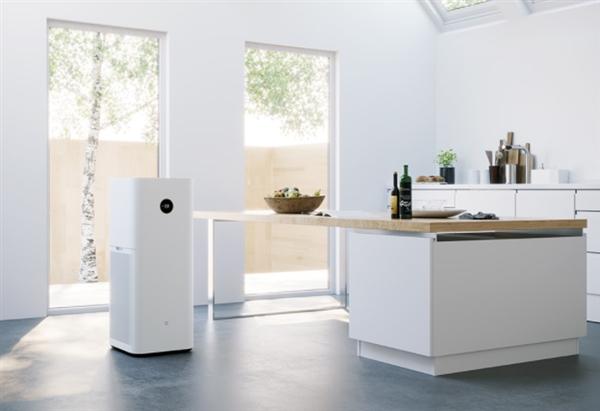 Best Xiaomi smart products of the month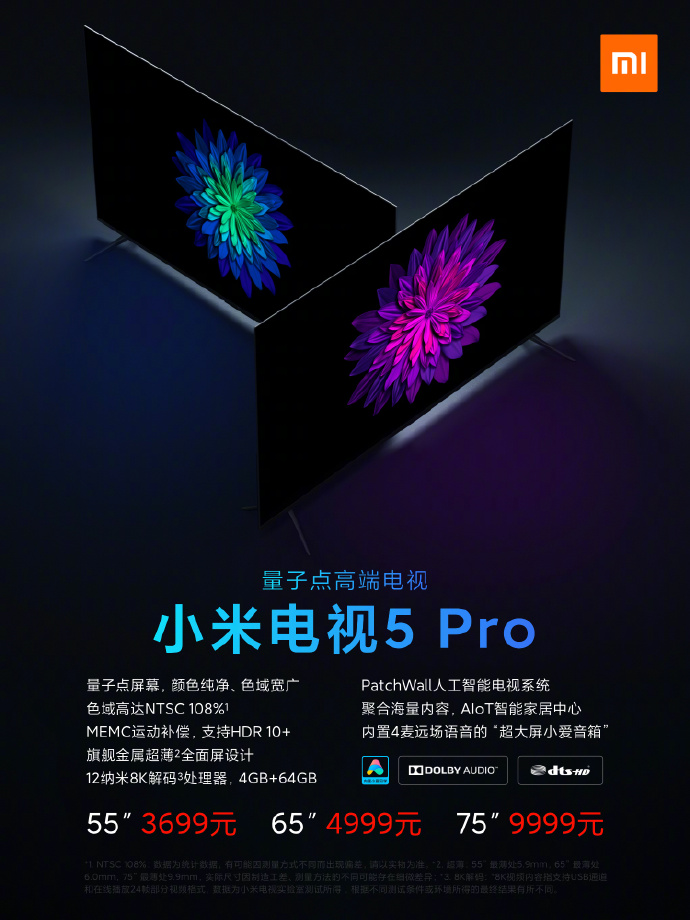 Unlike most of Xiaomi TVs, the Mi TV 5 Pro is a flagship-class smart TV. It is the first from the brand to sport a Quantum Dot QLED display with an 8K resolution, as well as the support to HDR10+, MEMC motion compensation, Dolby Audio sound, DTS HD, and 108 percent NTSC color gamut. Besides delivering an incredibly high image quality, the Xiaomi Mi TV 5 Pro is also a smart TV, just like every Xiaomi TV. It is powered by the Amlogic T972 chipset paired with 4 GB of RAM and 64 GB of native storage. It integrates the PatchWall AI assistant and, even though it is smart and high-end, it comes with an amazing design. Indeed, it is just 5.9mm thin and it has an aluminum screwless body. Xiaomi Mi TV 5 Pro debuted in China in three variants with 55, 65 and 75-inch monitors. The base model sells for about $537 at the actual change (3,699 Yuan).
You can learn more about the Xiaomi Mi TV 5 Pro by clicking here.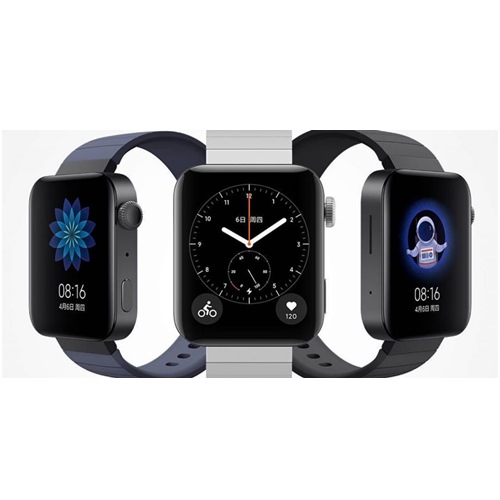 The Mi Watch is Xiaomi's first Wear OS smartwatch and it is the smartest and most attractive one for power users. The company defined it as a small smartphone on your wrist. It has an Apple Watch-like design with a square-shaped display. The screen is a 1.78-inch AMOLED panel with a 326 ppi pixel density and the body is made of metal and ceramic. It runs the world's first customization of Wear OS (MIUI) and it is powered by the Snapdragon Wear 3100 4G that is the most powerful chipset for wearables. It even packs the biggest battery ever implemented on a smartwatch, with a 570 mAh capacity and up to two days of battery life on a single charge. It features 4G connectivity, NFC, GPS, and eSIM support, as well as the XiaoAI virtual assistant and an in-built app store with more than 40 optimized apps, including WeChat. Xiaomi Mi Watch is available in China for about $185 in its base version.
You can learn more about the Xiaomi Mi Watch by clicking here.
Xiaomi Smart Electric Bed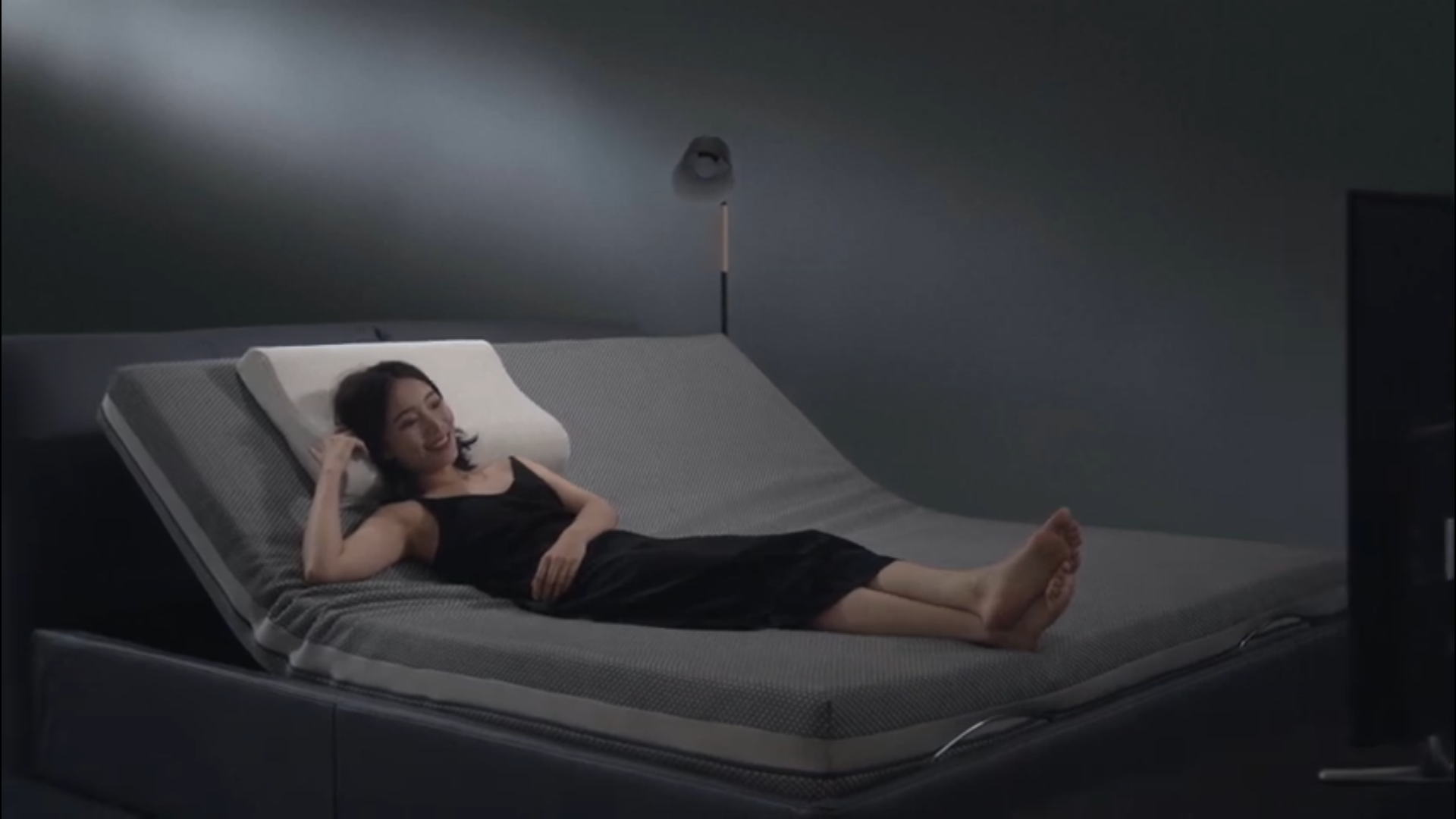 With Xiaomi even your bed becomes smart. Through its ecological chain enterprise, Xiaomi realized and launched the 8HMilan Smart Electric Bed. It is an electric bed you can control through a button and voice commands. Thanks to these solutions, you can lift it up to the desired angle in order to get the best comfort and relax. The bed works with a dual-motor mechanism thanks to which the upper and the lower half of the bed can be controlled independently, raising up to 60 and 30 degrees, respectively. There are several positions available: flat mode, anti-snore mode, reading mode, TV mode, and zero-gravity mode. Crowdfunding will start on December 3 and it will cost $285.
You can learn more about the Xiaomi Smart Electric Bed by clicking here.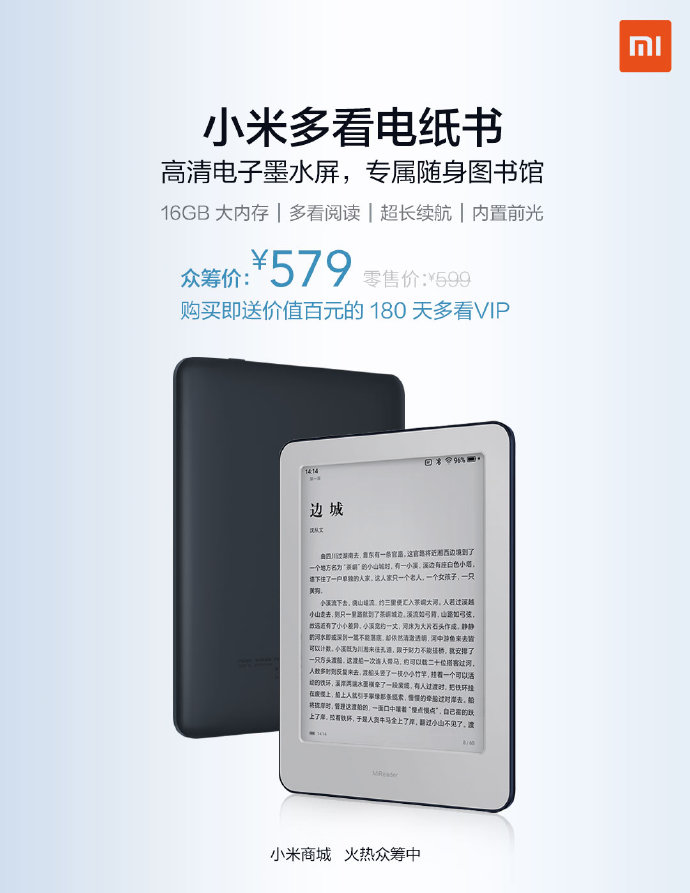 Xiaomi took on Amazon and its Kindle by announcing its first ebook reader. It is called Mi Reader and it went in crowdfunding in China with a price tag of 579 Yuan which roughly translates into $83 (the launch price will be 599 Yuan). The ebook reader features a 6-inch e-ink display with a 1024 x 768p resolution and a 212 ppi pixel density. It is an anti-glare display with front-lit LED lights you can adjust based on the light conditions around you. The ebook reader runs Android 8.1 Oreo and features a 16 GB internal storage which can contain up to 5,000 books. It has a 1,800 mAh battery providing several weeks of battery life that can be charged through a USB-C port.
You can learn more about the Xiaomi Mi Reader by clicking here.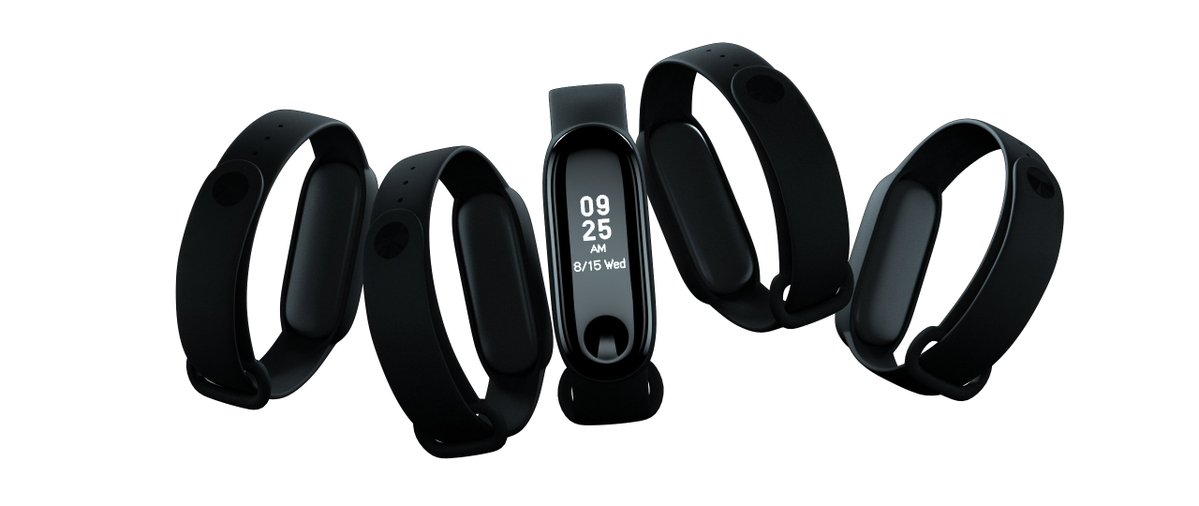 Despite it is not a variant of its latest fitness tracker, Xiaomi launched a brand new variant of the Mi Band 3 in India: its name is Mi Band 3i. For those who can not afford the new Mi Band 4 with its color display, there is the new Mi Band 3i sold with a $25 price tag in the Indian peninsula. It is essentially a Mi Band 3 without a heart rate sensor. The wearable is waterproof up to 5 atm and provides a battery life of up to 20 days thanks to a 110 mAh battery and an efficient AMOLED display with a size of 0.78 inches.
You can learn more about the Xiaomi Mi Band 3i by clicking here.
Xiaomi Mijia Translator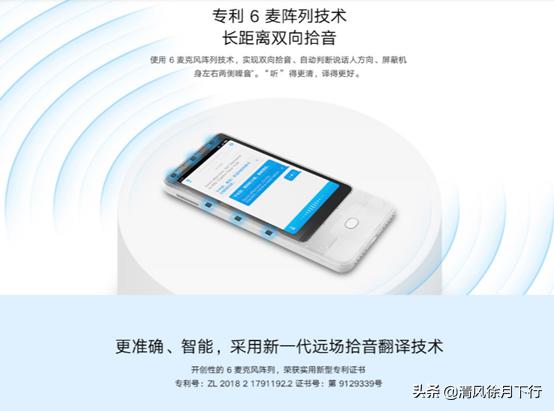 It looks like a smartphone, but it is not exactly so. It is the Xiaomi Mijia Translator, manufactured by Qingping Technology Co. Ltd. which is one of Xiaomi's ecological chain companies. It launched in China with a $184 price tag and comes with a 6-microphone array to detect the voice and improve the accuracy of the translation. It even comes with a 4.1-inch HD LCD display and a camera through which you can shoot photos at the text you need to translate from a foreign language. It supports 18 different languages and 170 different countries.
You can learn more about the Xiaomi Mijia Translator by clicking here.
Xiaomi Mijia Laser Projector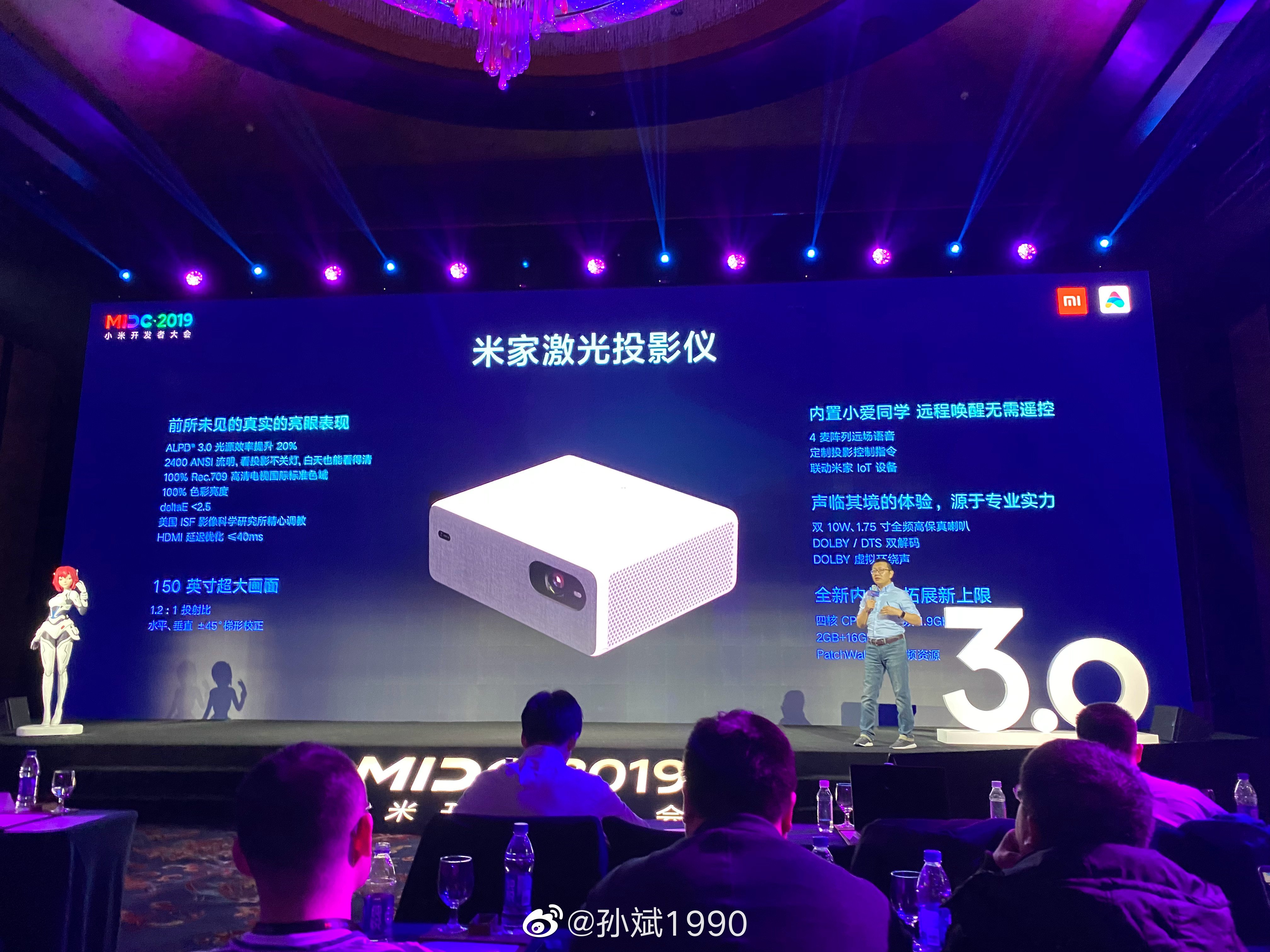 Last but not least, the amazing Xiaomi Mijia Laser Projector launched in China for 4999 Yuan. In a compact build, you can find not only a laser projector but also the same MIUI customization present on Mi TVs allowing to interact with Xiaomi's ecosystem and smart home appliances. It has a brightness of 2400 ANSI lumens and over 85 percent NTSC color gamut. It also packs 10W stereo speakers and it can project images up to 150 inches with 8K video decoding.
You can learn more about the Xiaomi Mijia Laser Projector by clicking here.