The latest benchmark report on Samsung's flagship processor the Exynos 2100 may have confirmed that the hype and buzz around the processor weren't misplaced after all. The Exynos 2100, as per the benchmark numbers, has made significant improvements in power efficiency and overall performance in comparison with its predecessor, the Exynos 990.
The benchmark surfaced on YouTube via the account Golden Reviewer and contains performance and power efficiency ratings for premium smartphone processors between 2020 and 2021.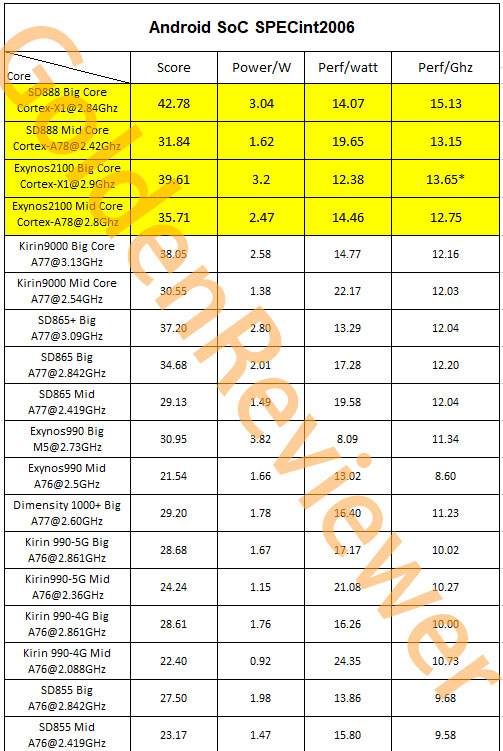 The Exynos 990's M5 (big) and Cortex-A76 (mid) CPU cores got 30.95 points and 21.54 points, respectively, while the Exynos 2100's Cortex-X1 (big) and Cortex-A78 (mid) CPU cores garnered 39.61 points and 35.71 points, respectively.
In terms of power efficiency, the Exynos 2100 also surpassed the 990 for both big and medium CPU cores. reflecting massive improvements over the 990. The implication is that after taking some flak in the aftermath of the Exynos 990, the tech giant silently worked on a solution that has proved very solid.
The Exynos 2100 may therefore be the reason why Galaxy S21 models performed better, with longer battery life than the Galaxy S20 devices.
However, the Exynos 2100 could not outperform the latest Snapdragon processor, the Snapdragon 888. It has a slightly better CPU performance and power efficiency compared to the Exynos 2100 but The latest mobile processor offering from Samsung is still better than the Snapdragon 865+ and the Kirin 9000.
The GPU of the Snapdragon 888 is marginally better than the Exynos 2100, although the Exynos 2100 seems to have a better power management rating as it is cooler when compared to the Snapdragon 888. A YouTube video has shown Exynos and Snapdragon versions of the Galaxy S21 running various CPU, GPU, and overall benchmarks. The heat and temperature measurements for the Exynos was better.
RELATED;
ALWAYS BE THE FIRST TO KNOW – FOLLOW US!