Apple has just recently announced its latest flagship series of smartphones, the iPhone 12. The lineup will help boost its sales during the fourth quarter of 2020, while also helping in outperforming the global smartphone market this year.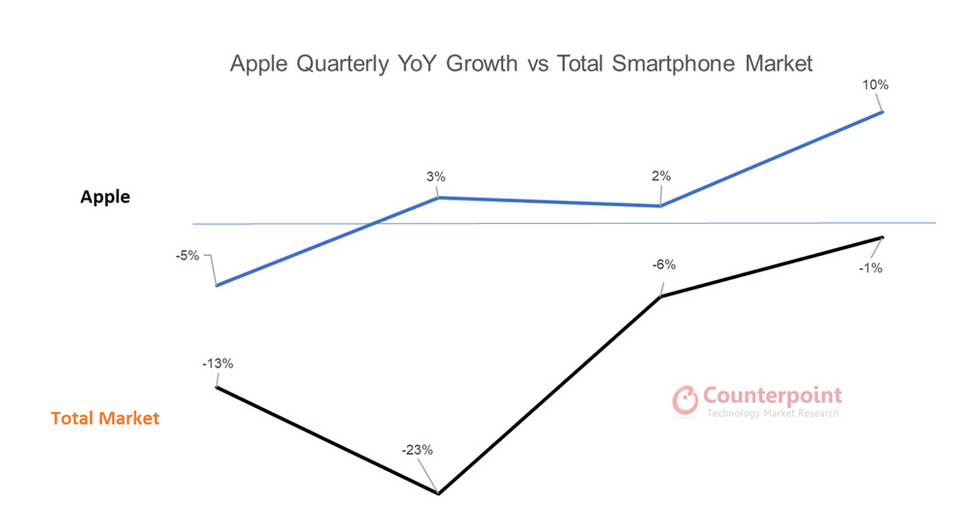 According to Tom Kang, Research Director at CounterPoint Research, "Apple has done a great job outperforming the global smartphone market. During the COVID-19 low point in Q2 2020, Apple was helped by the timely launch of the iPhone SE, which created a new, low price point for iPhones at $399. It helped Apple get through the worst months of COVID-19 and its lockdown periods. In addition, the iPhone 11 has proved to have great longevity, still selling over one million devices per week on the brink of a refresh. The SE and iPhone 11 helped maintain momentum through Q3 as the general market remained negative."
In other words, while various smartphone OEMs suffered from the impacts of the Coronavirus outbreak, strategic launches from Apple, helped in softening the blow. Furthermore, it is expected that the iPhone 12 lineup will outperform the iPhone 11 during the opening year, despite launching a month later. The overall global smartphone market is expected to also decline by 10 percent this year, however, the Cupertino based giant will reportedly see a growth of 4 percent year on year.
As per the report, demands for a new iPhone for iOS users had also been pent up with year, and the upgrade to 5G networking is also a highly desired feature in certain markets. Furthermore, the varied options for the display sizes and prices might drive sales in different markets, with nations with 5G infrastructure likely seeing an increase in iPhone 12 series' shipments.
ALWAYS BE THE FIRST TO KNOW – FOLLOW US!