Google and Apple releasing affordable smartphones: a very rare event. But this year we have both choices. The affordable smartphone released by Google is the Pixel 3a, while the one by Apple is the iPhone SE 2020. For those who want a stock Android experience and the fastest updates at a modest price, as well as developers who want to save some money, there is no better option than Pixel 3a. On the other hand, iPhone SE 2020 is for all those people who want to enter Apple's ecosystem and desire a device with the best performance without the need for a high budget. Further, both are compact devices. For all these reasons and more, we decided to make a specs comparison between the new iPhone SE and Google Pixel 3a.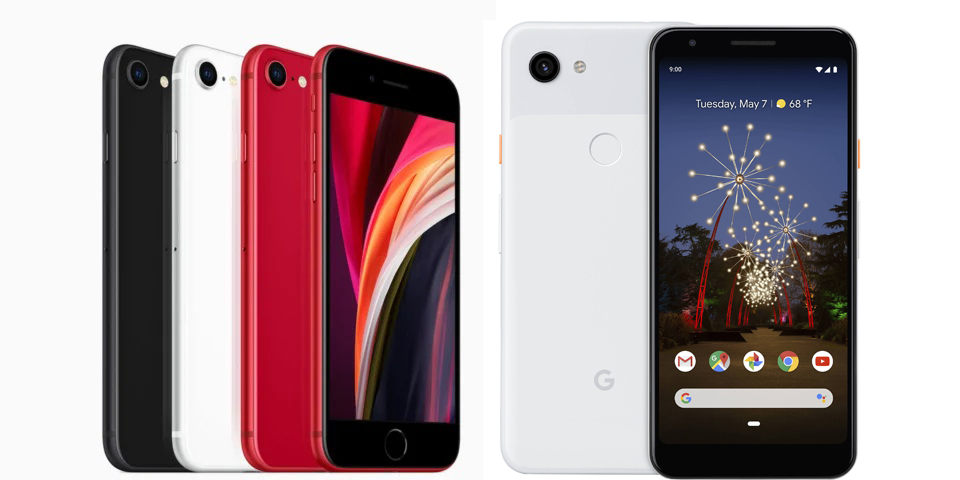 Apple iPhone SE 2020
Google Pixel 3a
DIMENSIONS AND WEIGHT
138.4 x 67.3 x 7.3 mm,

148 grams

151.3 x 70.1 x 8.2 mm,

147 grams

DISPLAY
4.7 inches, 750 x 1334p (Retina HD), Retina IPS LCD
5.6 inches, 1080 x 2220p (Full HD+), OLED
PROCESSOR
Apple A13 Bionic, hexa-core 2.65 GHz
Qualcomm Snapdragon 670, hexa-core 2 GHz
MEMORY
3 GB RAM, 128 GB – 3 GB RAM, 64 GB – 3 GB RAM 256 GB
4 GB RAM, 64 GB
SOFTWARE
iOS 13
Android 9 Pie
CONNECTIVITY
Wi-Fi 802.11 a/b/g/n/ac/ax, Bluetooth 5.0, GPS
Wi-Fi 802.11 a/b/g/n/ac, Bluetooth 5.0, GPS
CAMERA
Single 12 MP f/1.8
7 MP f/2.2 front camera
Single 12.2 MP f/1.8
Single 8 MP f/2.0 front camera
BATTERY
1821 mAh, fast charging 18W, wireless charging Qi
3000 mAh, Fast Charging 18W
ADDITIONAL FEATURES
IP67 water resistant, eSIM
/
Design
As mentioned above, both iPhone SE and Google Pixel 3a are compact phones. But iPhone SE 2020 is the most compact one. It is the last-generation flagship with the smallest display and body available in the market. Both the devices come with pretty outdated aesthetics, including thick bezels around the screen. You get narrower bezels with the Pixel 3a, but it has a full plastic body. The iPhone SE 2020 has thicker bezels but it comes with more premium materials, including a glass back and an aluminum frame. Further, unlike the Pixel 3a, it is water resistant with the IP67 certification. Note that the iPhone SE has almost the same design as the iPhone 8 released in 2017.
Display
Google Pixel 3a sports an OLED display providing more vivid colors, while iPhone SE 2020 comes with an IPS panel delivering high color accuracy and the True Tone technology. With a 4.7-inch diagonal, iPhone SE 2020 has a very small panel, so it is not for everyone. It is extremely compact, but not the most suitable device for productivity users. Google Pixel 3a sports a bigger 5.6-inch display with an 18:9 aspect ratio (iPhone SE 2020 has a 16:9 aspect ratio).
Specs & Software
When it comes to the hardware department, there is no challenge: iPhone SE 2020 is superior thanks to its Apple A13 Bionic chipset. Despite its affordable price, the iPhone SE 2020 is one of the most performing smartphones out there since it boasts the same chipset as the iPhone 11 lineup and the excellently-optimized iOS operating system. Google Pixel 3a still provides pretty nice performances, but with its Snapdragon 670 SoC, it is just a mid-ranger. Both the devices come with an operating system that will get updates for several years. The iPhone SE ships with iOS 13, while Pixel 3a has Android 9 Pie, already updated to Android 10.
Both iPhone SE and Pixel 3a are great camera phones and they should be very close in most of the scenarios. However, they come with just one single sensor on the rear side, so they can not shoot ultrawide photos and they do not come with a telephoto sensor for optical zoom. Both support OIS and 4K video recording, but only iPhone SE can record videos in 4K at 60 fps. The iPhone SE is better at videos, while in terms of photo quality the two handsets should be more or less at the same level.
Battery
The weakest point of these handsets is the battery life. They are compact, but they also come with a below-average battery. The Google Pixel 3a has a battery with a 3000 mAh capacity, while iPhone SE provides just 1821 mAh. Unfortunately, the iPhone SE is a bit disappointing compared to all the other handsets launched in 2020. The Pixel 3a is definitely better, but not amazing as well. Note that the iPhone SE charges faster due to its smaller capacity and, unlike the Pixel 3a, it supports Qi wireless charging.
Price
In this period, you can find the Google Pixel 3a for less than €350/$300 globally, while the iPhone SE 2020 starts from €499/$399 in its base variant with 64 GB of internal storage. Each of these handsets has its pros and cons. Google Pixel 3a has no chance to reach the level of performance of the iPhone SE, but it has a better battery and a camera providing a similar quality. But at the end of the day, if we exclude the battery, iPhone SE is a superior device. On the other hand, Google Pixel 3a has a higher value for money, as well as a wider display which would let a lot of people go for it. Which one would you prefer?
Apple iPhone SE 2020 vs Google Pixel 3a: PRO and CONS
Apple iPhone SE 2020
PRO
More compact
Best performance
Touch ID
More internal storage inside
eSIM
CONS
PRO
Bigger battery
More affordable
Great camera for the price
CONS