Advertisement
The global smartwatch market witnessed a growth of 6 percent in the third quarter of this year, despite the ongoing coronavirus pandemic. Major brands like Apple, Huawei, and Samsung led the industry in terms of shipments as per a new report.
According to a recently published Global Smartwatch Model Tracker from Counterpoint Research, Apple retained its top spot in the market with a 28 percent share. The Cupertino based giant saw a nominal rise of 2 percent in its market share over the same period from 2019. Its launch of its first mid tier wearable Apple Watch SE, which was priced under 300 US Dollars, helped the company garner a lot of attention during this quarter in the market.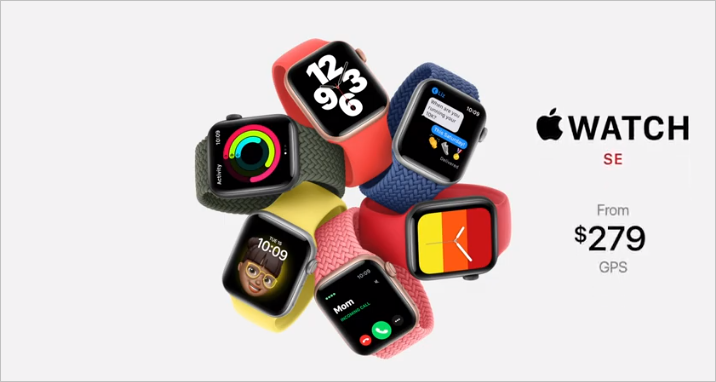 Similarly, Huawei also managed to remain second in terms of shipments with a 15 percent market share in 2020. This marks a growth of 5 percent over the third quarter from the previous year, which was accredited to the launch of new models that expanded its existing wearable portfolio. The South Korean tech giant, Samsung, took the third spot overtaking BBK in 2020 thanks to the successful launch of its Galaxy Watch 3 smartwatch.
According to Analyst Sujeong Lim, "In terms of sales, Apple's position is even stronger. In the third quarter, it achieved $2.3 billion, nearly half of global smartwatch shipments and an 18% increase over the same period last year. Samsung had stagnated in H1 2020. Since it appeals to fewer premium consumers compared to Apple, demand from its base was weaker during the pandemic. But it rebounded in the third quarter with the launch of the Galaxy Watch 3. In terms of revenues, Samsung grew 59% YoY and is expecting good growth momentum now."
Advertisement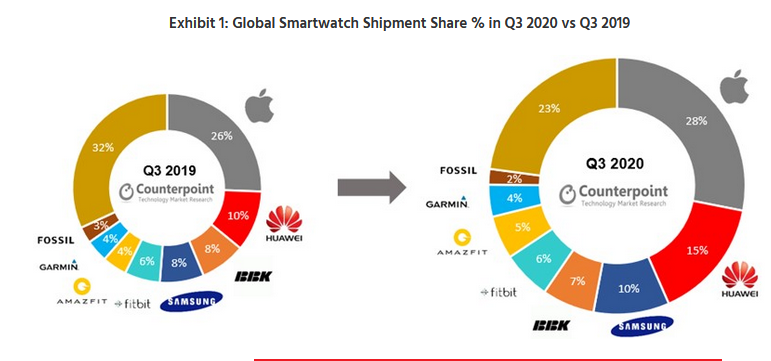 Notably, China surpassed North America in terms of shipment after being behind for the past seven quarters to become the market leader. While the North American market showed significant growth after the launch of the Apple Watch Series 4, China managed to edge ahead with smartwatches aimed towards children. Despite being the second largest smartphone market, India only accounted for 4 percent of the total smartwatch market.
ALWAYS BE THE FIRST TO KNOW – FOLLOW US!
Advertisement