Last year witnessed growth in the computer market as well as tablets as people were stuck at home because of the COVID-19 pandemic. As per the latest report coming from IDC, the tablet market witnessed a growth of 13.6 percent in terms of sales in the year 2020.
In total, 164.1 million tablets were shipped, which is more than 144.5 million devices shipped a year prior to that. Unsurprisingly, Apple was the market leader throughout the year in this segment.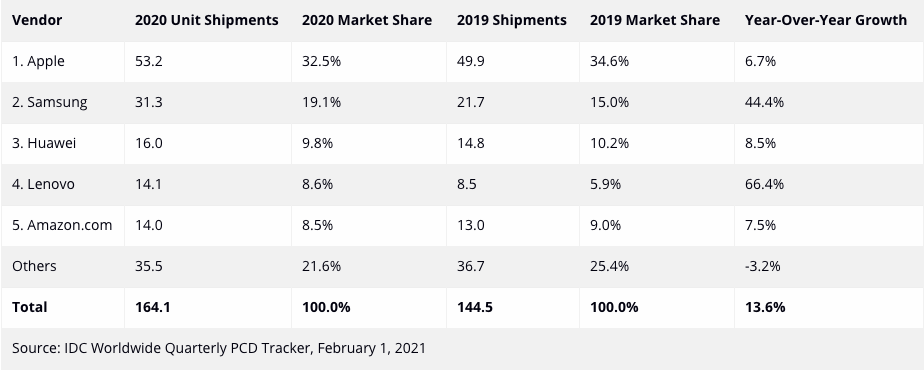 The report claims that Apple managed to ship 19 million iPads
Samsung came in at the second position with shipments of 10.1 million Galaxy Tabs in Q4 2020, which is a growth of 45 percent compared to the same period previous year. The company got a market share of 19.1 percent.
Despite struggling to keep its consumer electronics business afloat, Chinese giant Huawei managed to be in the top 5 tablet brands for the year 2020, thanks to the company's shipment of 16 million units in the last year, getting 9.8 percent market share.
Lenovo, the China-based company, stood fourth with 5.6 million shipments in Q4 2020, up 2.5 million shipments in Q4 2019. In total, the company shipped 14.1 million units last year and managed to get 8.6 percent market share.
RELATED:
ALWAYS BE THE FIRST TO KNOW – FOLLOW US!