Advertisement
With the rising US tensions leading to the ban of Huawei, Chinese citizens are favoring products from homegrown brands ever more than before. A new report by a research firm reveals the fall of Apple's market share as Chinese brands continued to grow except Xiaomi.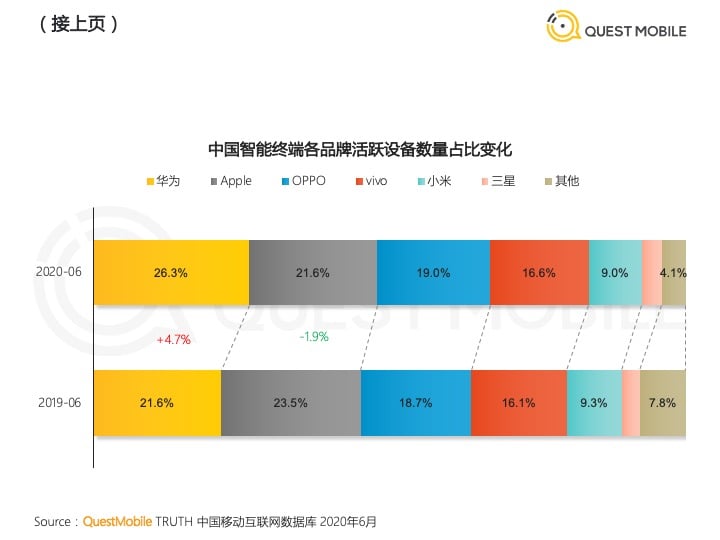 Quest Mobile aka Beijing Guishi Information Technology Limited is one of the well-known research firms. It published a comprehensive report (via SCMP)on China smartphone market as of June 2020.
According to it, Apple's market share in China dropped to 21.6% from 23.5%. Whereas, Huawei's share increased to 26.3% from 21.6%. Similar story for Oppo (18.7% – 19.0%), Vivo (16.1% – 16.6%), and even Samsung (negligible – 3.4%). However, Xiaomi witnessed a drop from 9.3% to 9.0% and so did other brands (7.8% – 4.1%).
Talking about age groups, Huawei was popular among people aged 25-30. On the other hand, Apple was leading in the 41-45 age group. Whereas, Vivo was popular among both youngsters( 18 and below, 19-24) as well as the old age group(46 and above)
Advertisement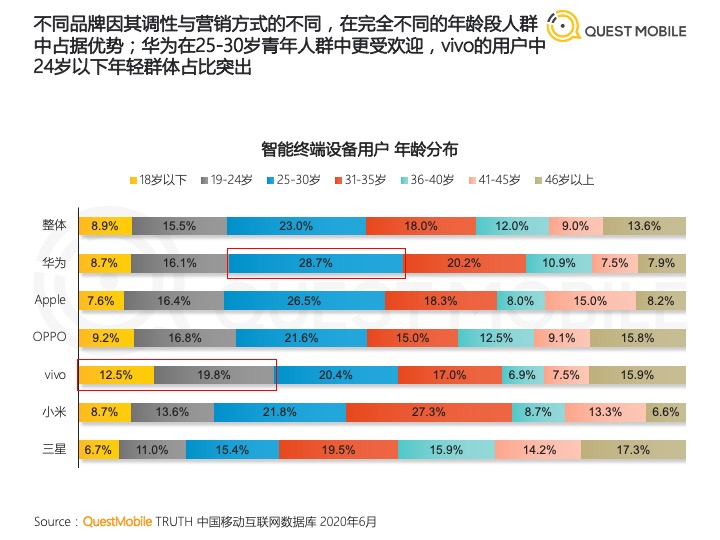 Further, people aged 31-35 used Xiaomi smartphones while Samsung users were mostly aged between 36 and 40.
As expected, Apple was much popular among wealthy citizens in Tier 1 cities. Whereas, Oppo and Vivo together led both mid-tier as well as rural regions of China.
The most interesting data set by Quest Mobile is regarding customers switching brands. In that aspect, Huawei users remained most loyal as 51.1% of them upgraded to a newer model from the company. Whereas, only 44.7% of Apple users upgraded to newer iPhones and above all, 22.4% switched to Huawei.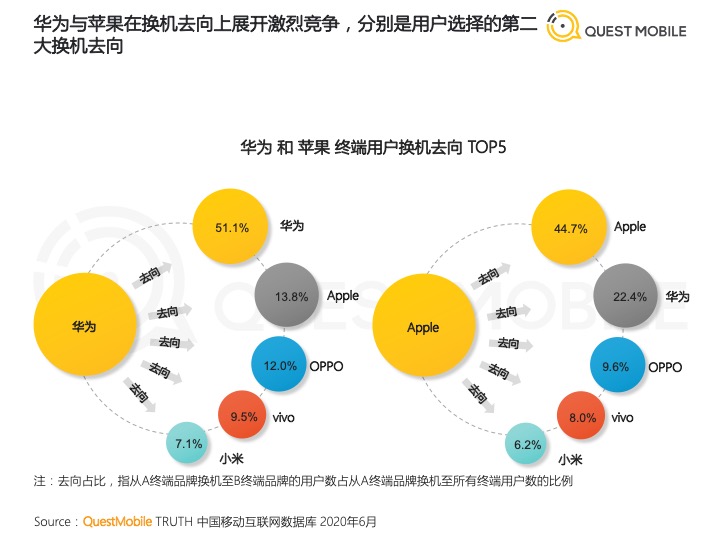 The above-mentioned data are only basics. To read the in-depth analysis by the research firm, do check out their report from the source link provided at the end of this article.
ALWAYS BE THE FIRST TO KNOW – FOLLOW US!
Advertisement