AnTuTu, a benchmarking application, has released a ranking of best price-to-performance smartphones for September 2020. The charts are divided based on the price segment and value for money score is given accordingly. So, devices like Redmi Note 8 Pro, Redmi 10X 5G, iQOO 3, and 5 Pro top the charts in their own categories.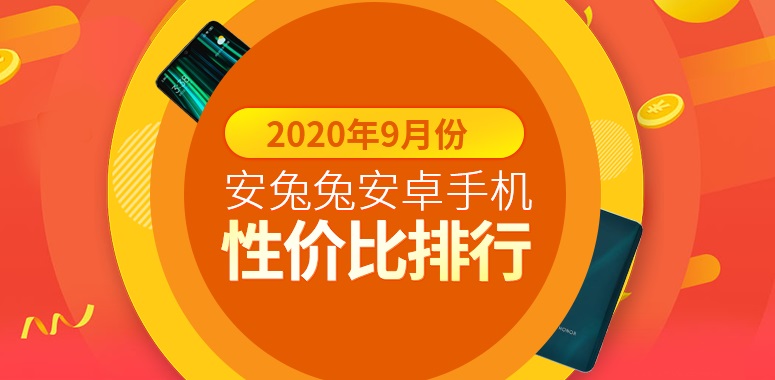 First, the AnTuTu report has a few pre-requisites and standards to make the list. The test is calculated using the V8 version of the AnTuTu app. Besides, it has prepared the ranking charts by dividing the "Performance score" by "Current Price"(in China). Also, the pre-requisite for the device is it must make it to the overall AnTuTu performance ranking. The report also says that if the device doesn't make it to the performance list, or if its current availability is doubtful, it won't make it to the list.
1. Low budget category- 0 to 1499 yuan($0-$223)
Begining the list is a budget category of devices whose range is between 0-1499 yuan($0-223). As per the AnTuTu report, Redmi Note 8 Pro 6GB/64GB tops the chart. It is selling for 1099 yuan in China and scores a 284,641 on AnTuTu. Hence, it gets a value for money score of 259. It is followed by Redmi 9, Redmi 10X 4G, Honor Play 4T Pro, Redmi K30, Realme V5 5G, and Vivo Y5s.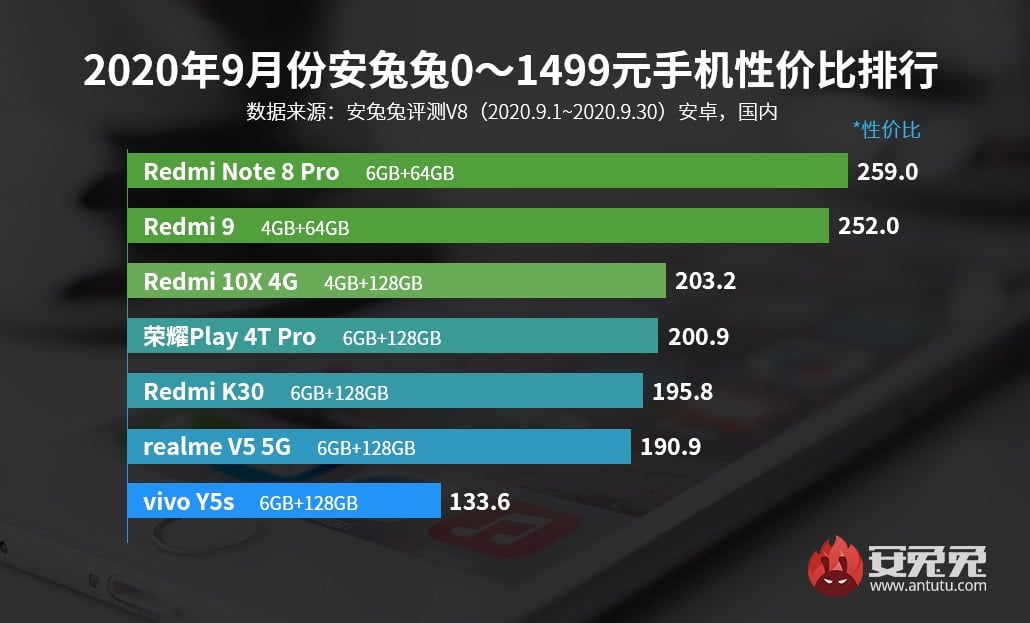 Factors like Price, and features like copper-cooling, 64MP camera, MediaTek Helio G90T on Redmi Note 8 Pro, and FHD display, MediaTek Helio G80 has reportedly made them popular. And topple the likes of more powerful Redmi 10X 4G, and Realme V5.
2. Budget category 1500-1999 yuan($223-$297)
This list is again dominated by Redmi devices with Redmi 10X 5G, K30 Ultra, K30 5G captured the first three spots. Accordingly, their score is 250, 240.9, and 202.9 respectively. The list also has other entrants like iQOO Z1x, Honor X10, Redmi K30i 5G, Honor 9X, Mi 10 Youth Edition 5G, Vivo Y70s, OPPO A92s.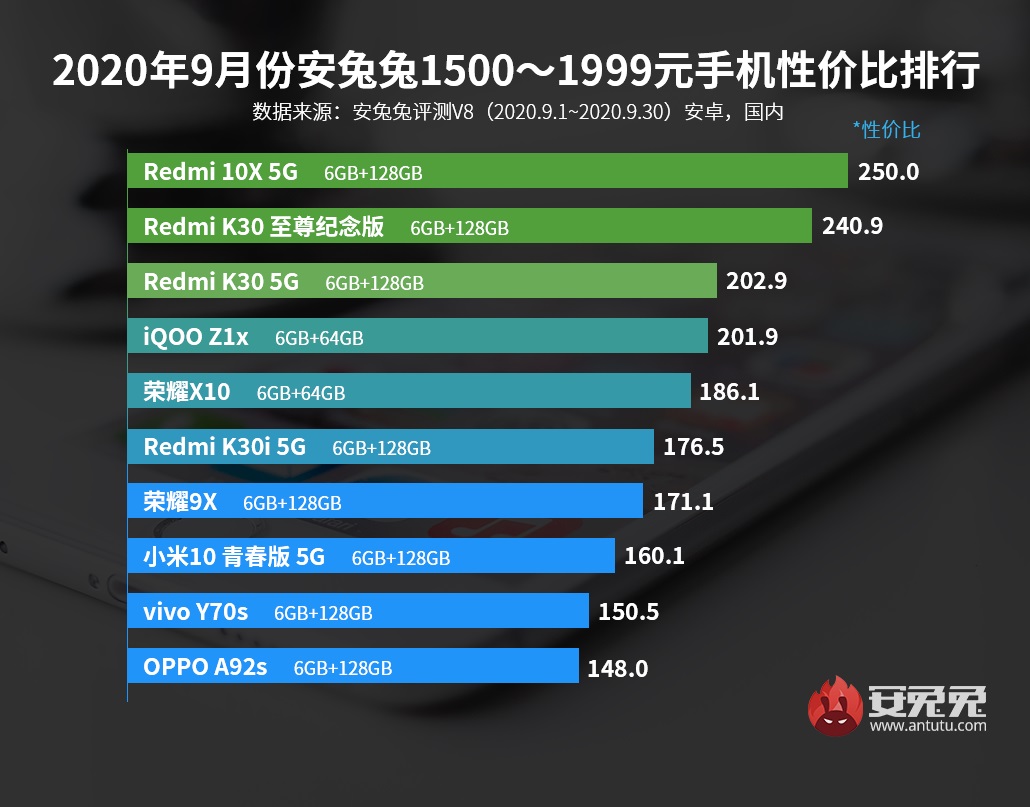 3. Mid-range category 2000-2999 yuan($297-$446)
As we move to the higher price segments, competitors like iQOO, Realme come to squeeze Redmi that is dominant in budget range. The iQOO's Z1 and Neo 3 grab the top two spots with scores 233.2, and 216 respectively. Also, MediaTek's Dimensity SoC dominates the scene with the Dimensity 1000 devices acquiring substantial positions. The list has other entrants like Redmi K30 Pro, Redmi 10X Pro 5G, Honor 20 Pro, Huawei nova6 5G, Honor Play4 Pro, and Honor 30S, and Huawei nova7 SE.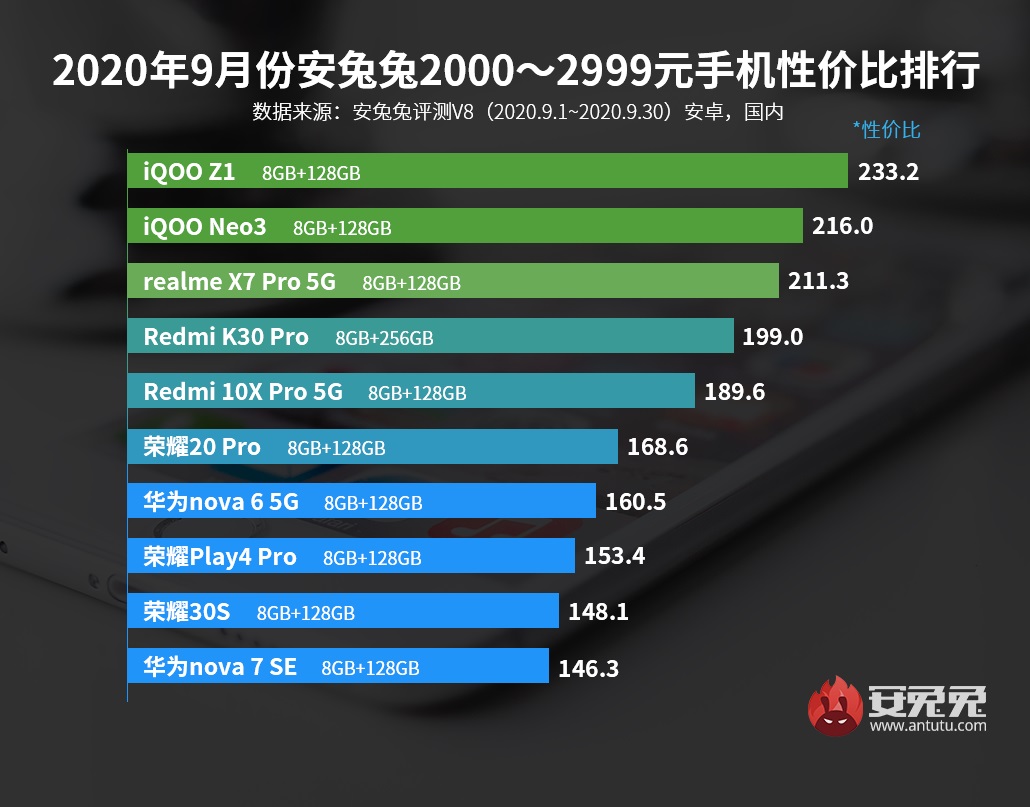 Editor's Pick: AnTuTu September 2020: iQOO 5 Pro dethrones Mi 10 Ultra as the best performing device
4. Budget Flagship category 3000-4499 yuan($446-$670)
As we climb up to the flagship territory, Qualcomm Snapdragon devices start to shake the charts. This category has iQOO 3 topping the chart with a score of 181.0. It is followed by Oppo Ace 2, and Black Shark 3 with scores of 178.4, and 176.3. Interestingly, Black Shark 3 captures the third spot, while Aus's ROG 3 is pushed down to last. Besides, all of the devices have Snapdragon 8 series of SoCs, faster UFS memory, faster charging, and higher MP cameras. Hence, the value for money hovers a bit less and it will probably boil down to the UI that a user prefers.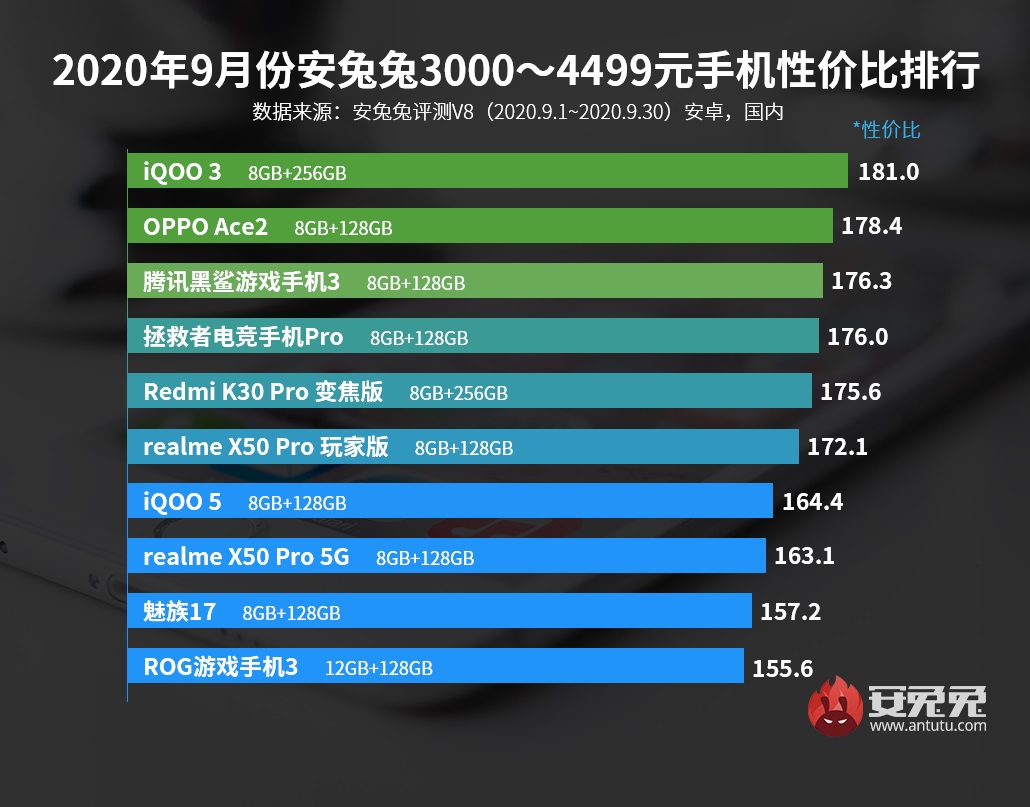 5. Premium Flagship category- Above 4500 yuan(>$670)
Finally, the premium flagship is once more dominated by iQOO. This time it's the iQOO 5 Pro. It's 8GB/256GB variant topped the chart with a score of 132.0. It is followed by Xiaomi's Mi 10 Extreme Commemorative Edition (Ultra) and Mi 10 Pro smartphones with scores of 119.9, and 119.2 respectively.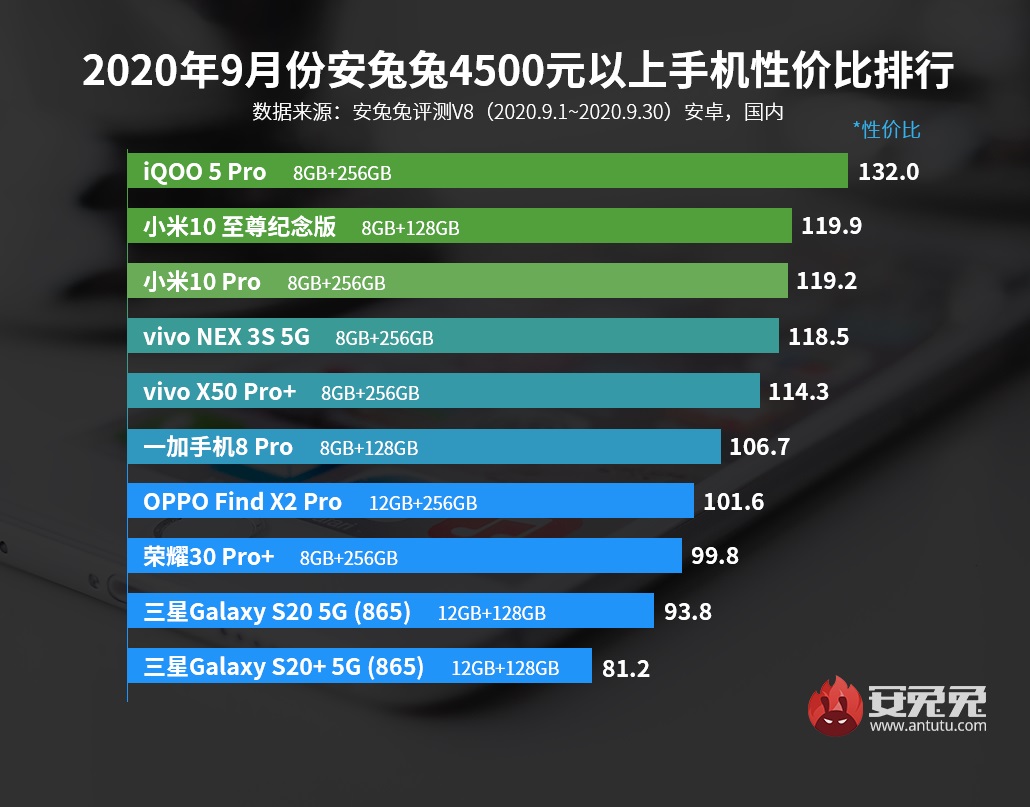 The list has other entrants from Vivo, Oppo, OnePlus but Samsung's Galaxy S20 and S20+ surprisingly occupy the last two places.
Up Next: Huawei reportedly planning to sell the Honor brand with Xiaomi, TCL in the picture
ALWAYS BE THE FIRST TO KNOW – FOLLOW US!