Advertisement
Earlier today (6th January 2020), Antutu released the performance ranking of Android smartphones that are currently available in China through its benchmarking software. The rankings are from two different categories, namely mid range and flagship grade smartphones, to better encompass the vast array of options in the Chinese market.
Antutu Best Flagship Smartphone Ranking
According to the listing, the company renowned for its universal benchmarking software for Android smartphones has crowned the Vivo IQOO Neo to be the best performing sm artphone with 8GB RAM paired with 128GB of internal storage. The smartphone scored 504,432 points.

Advertisement

IQOO Pro 5G version with 8GB of RAM and 256GB of internal storage arrives a close second. It scored 499,446 points in the benchmarking software.
The third place went to Vivo's NEX 3 5G with a similar 8GB RAM and a 256GB internal storage version which scored 498,596 points.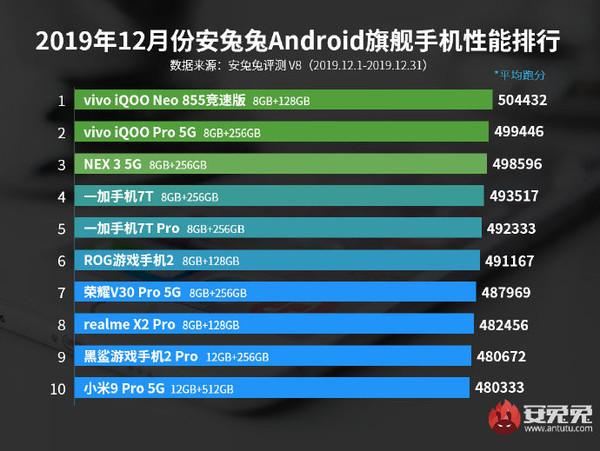 Notably, smartphones like the ROG Gaming Phone 2 and Realme X2 Pro also were top performers found a bit lower in the list. Furthermore, Qualcomm's Snapdragon 855 SoC made a recurring entry in the list, especially on the top three best performing devices.
Antutu Best Mid Range Smartphone Ranking
The Antutu benchmarking software results has seen the Vivo X30 Pro 5G having the lead in the Mid Range smartphone category. The device arrives with 8GB of RAM and 128GB of internal storage and scored an impressive 327,527 score in the tests.
Oppo's Reno3 Pro 5G came in second with 8GB of RAM and 128GB of internal storage. The handset scored a commendable 318,328 points.
On the third spot, Honor 9X Pro

Advertisement

scored 310,398 points and is also one of the few devices in either category to not feature a Qualcomm Snapdragon processor. Instead, it uses the company's indigenous Kirin 810 chipset.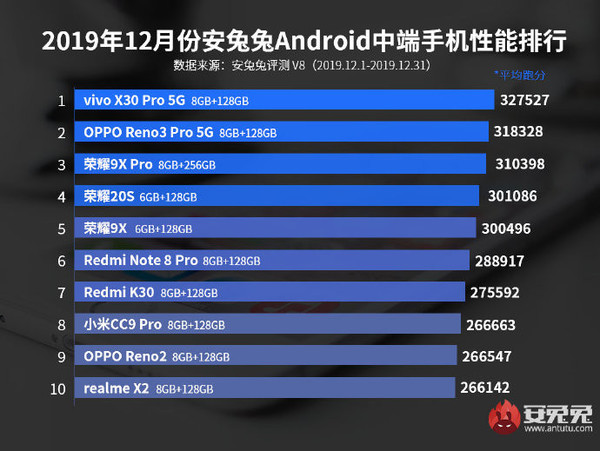 Additionally, other notable entries in the list include Xiaomi subsidiary's Redmi Note 8 Pro, Redmi K30, Xiaomi CC9 Pro, Realme X2 and more.
Lastly, Antutu has also stated that the testings was over the period lasting from 1st December to 31st December 2019. Each individual model were tested numerous times on the latest Antutu V8 version benchmarking software.
(Via)
Advertisement