Four out of the six best-selling Android phones during the first quarter of this year were made by Samsung, shows data by Strategy Analytics. The other two were Xiaomi phones.
The Samsung Galaxy A51 (the 4G version) was on top with a comfortable lead – with 6 million units shipped, it made up 2.3% of all Androids sold globally during Q1. The A51 is popular around the world, but especially in Europe and Asia.
Its closest rival is another affordable model – the Redmi 8 from Xiaomi, which made up 1.9% of the market. It has many fans in India and China and is becoming increasingly popular in Europe as well. SA explains that money worries during the pandemic combined with reduced subsidies from carriers have led people to seek out more affordable devices.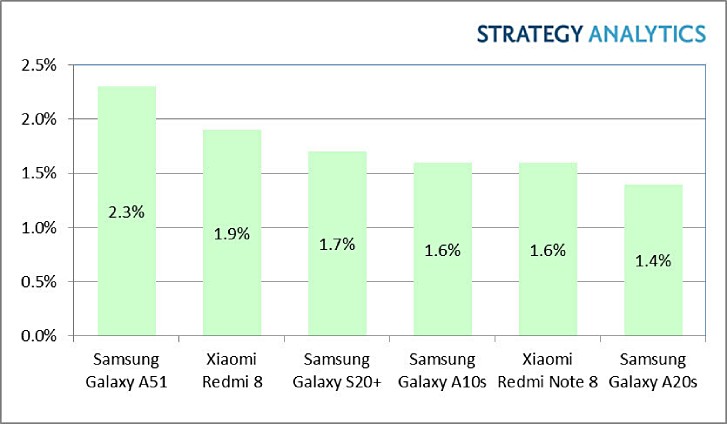 In fact, the only premium model in the Top 6 is the Samsung Galaxy S20+, sitting in third with a 1.7% share. The S20 Ultra, which was selling better than expected, is not on the list and neither is the smaller (and cheaper) S20, even though it's very close to the S20+ in terms of hardware.
The Galaxy A10s and Galaxy A20s are part of Samsung's efforts to strengthen its entry-level offerings and it worked, these two were some of the most popular phones around the world. The Redmi Note 8 is Xiaomi's second phone to make it on the list, a more premium offering than its sibling at a reasonable price.